Israel's tech industry has been making waves around the world for quite some time now, and the latest report from Dealroom shows just how far it has come. Tel Aviv, Israel's largest tech hub, has been ranked second in Europe in terms of its start-up ecosystem, with a combined enterprise value of $393 billion in 2022, putting it behind only London.
This makes Tel Aviv one of the fastest-growing ecosystems in the world, outpacing tech hubs like New York, Beijing, and Paris. Since 2018, Tel Aviv's start-up ecosystem has grown 3.5 times in value, which is faster than some of the most prominent tech hubs worldwide.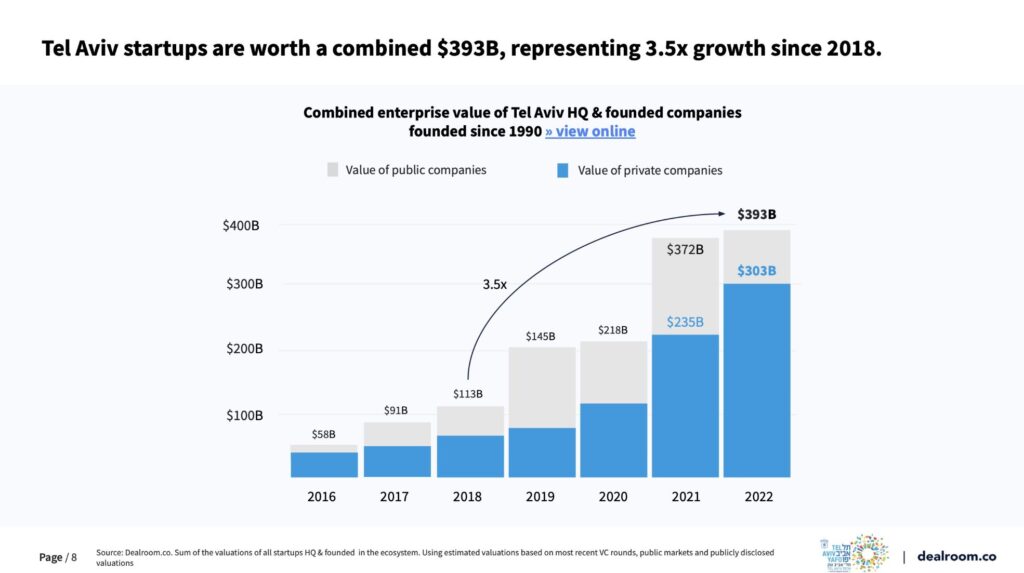 While the recent social upheaval over the Israeli government's judicial overhaul has prompted some Israeli start-ups and tech firms to move their funds and investments abroad, the findings of the report predate this issue. Despite the downturn in financial markets, Tel Aviv's tech start-ups have been able to raise significant funds, with cybersecurity start-ups raising $1.7 billion, almost 20% of total venture capital investments in 2022, and putting the city in third place in the world for cybersecurity investments, ahead of London and Beijing.
Cybersecurity is a strong suit of Tel Aviv's ecosystem, with companies like Talon Cyber security and Perimeter raising $100 million each in funding rounds. Moreover, in this area, the city has been able to attract a much higher proportion of early-stage funding from international investors compared to the EMEA's (Europe, the Middle East and Africa) average.
As of the last year, Tel Aviv's start-up ecosystem helped the city to amass 95 unicorn, making it the fifth highest number in the world. In addition to that, on average, for every unicorn Tel Aviv produces, more than four additional start-ups are founded by people linked to unicorns. What's interesting is that 76% of these new start-ups choose to stay and build the their businesses in Tel Aviv.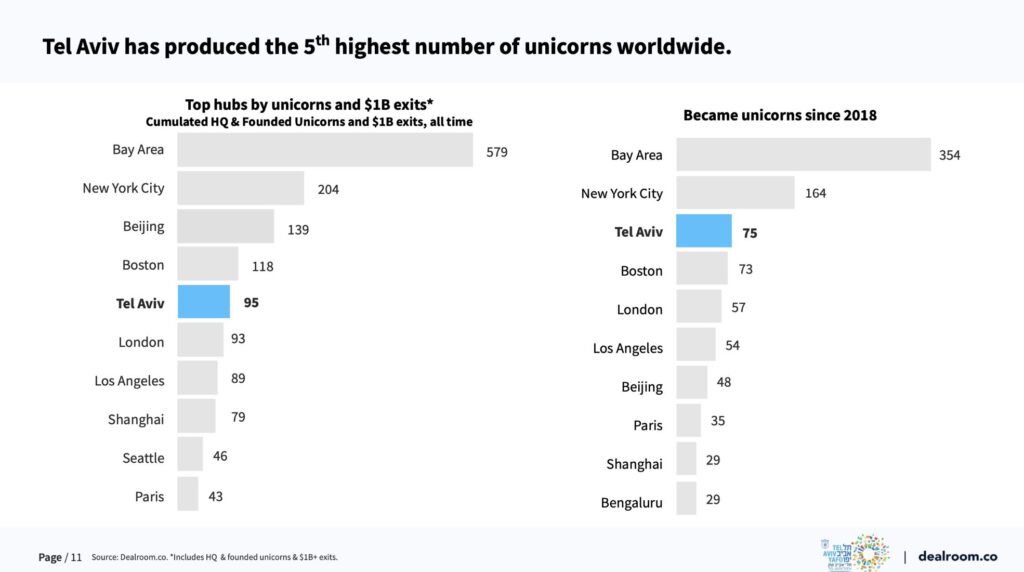 What distinguishes Tel Aviv is its ecosystem of repeat founders, venture capital firms, and angel investors. Israel is a resilient nation due to its unique combination of entrepreneurial DNA, and world-class technical talent. It has shifted from being a "start-up nation" to a "scale-up nation", and its leading start-ups aim to build large, publicly traded multi-billion dollar corporations. US investors have been more active in Tel Aviv than in the rest of their EMEA tech hubs, with firms investing in Israeli start-ups that specialise in fintech, Artificial Intelligence gaming and cybersecurity.