The past few weeks have been dominated by public protests against the government's judicial reform and the potential consequences it may have on the capital markets in Israel. Indeed, a great number of experts have voiced their concern regarding the possibility of investors, both domestic and international, moving their money out of Israel in protest of potential changes.
Furthermore, as Isranomics reported on January 21, analysts' forecasts for Israeli securities have been closely tracking developments on the political stage, as the government has expressed a desire to increase spending on social programs in order to address the cost of living crisis.
However, despite these recent developments, the shekel has been strengthening against the US dollar in recent weeks.
Following a decline in December, the shekel's value against the dollar has increased by 4.8% since the beginning of 2023, and it is currently trading at levels that have not been seen since the beginning of September 2022.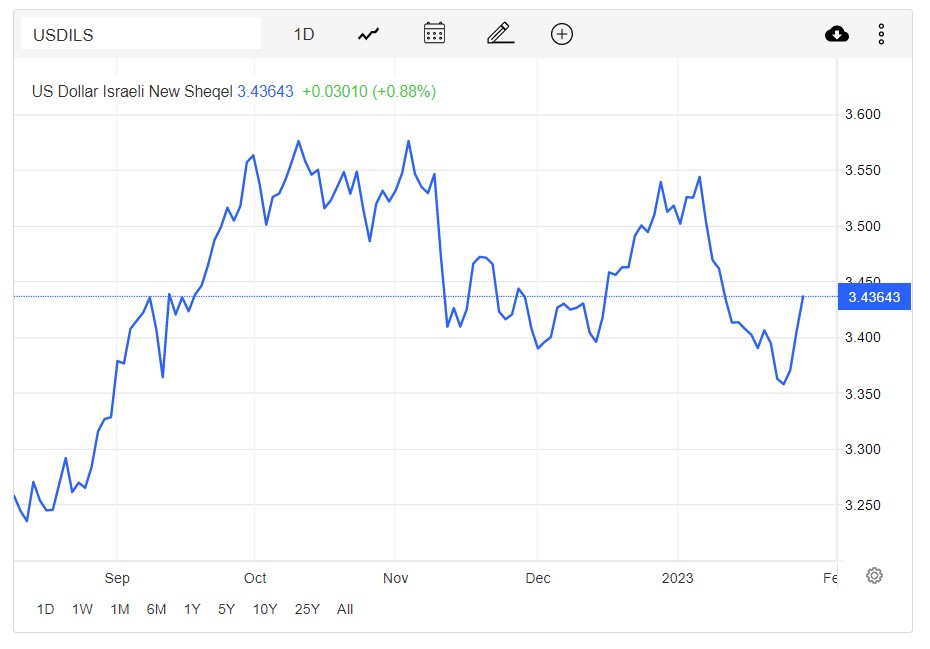 Some specialists attribute this change to several factors. The global macroeconomic conditions, the weakening dollar on world markets, and the improvement of market sentiment, with the Nasdaq gaining 9% and the S&P 500 returning above the 4,000 mark recently. Normally, when this happens, institutional investors in Israel liquidate their dollars as they look to reduce their dollar exposure, thereby strengthening the shekel. Because the tech sector accounts for a sizable portion of the Israeli stock market and economy, a positive shift in fortunes in the US has an almost immediate impact on the Israeli market. As a result, unsurprisingly, the Israeli currency has also appreciated against the euro and the pound.
However, the dollar's depreciation could also be attributed to the rising risks of a US recession this year. The reason for this is that the Fed will likely reduce interest rates if this scenario becomes more likely.
Furthermore, history shows that the USD's value appreciates when there is uncertainty in the markets because American currency is perceived as a safe haven. However, this is not the case at the moment. In fact, the global economy is currently showing signs of improvement. The reopening of China, the ongoing decline in the price of energy commodities, and the reduction in inflation are all indications that the economy is regaining its stability in leading markets. Because of this, it is possible that all of these factors will continue contributing to further depreciation of the dollar in comparison to other currencies. In the meantime, market analysts anticipate that the average exchange rate will be somewhere between NIS 3.40 and NIS 3.60 per dollar over the course of the following year. However, this rate could drop even further if the Federal Reserve decides to lower interest rates.