The recent selloff in US bank shares has rattled investors, as fears about the solvency of regional lenders have intensified. The collapse of First Republic Bank, and its consequent takeover by JP Morgan, have contributed to the lack of stability in the market. All of this has raised concerns among investors that the financial stocks represented in the S&P 500 financials index may fall below their 2007 peak. If this happens, it could be a bad sign for the broader stock market, as it may put pressure on banks to conserve capital and cut back on lending, which in turn could drag down an economy that is already at risk of a recession.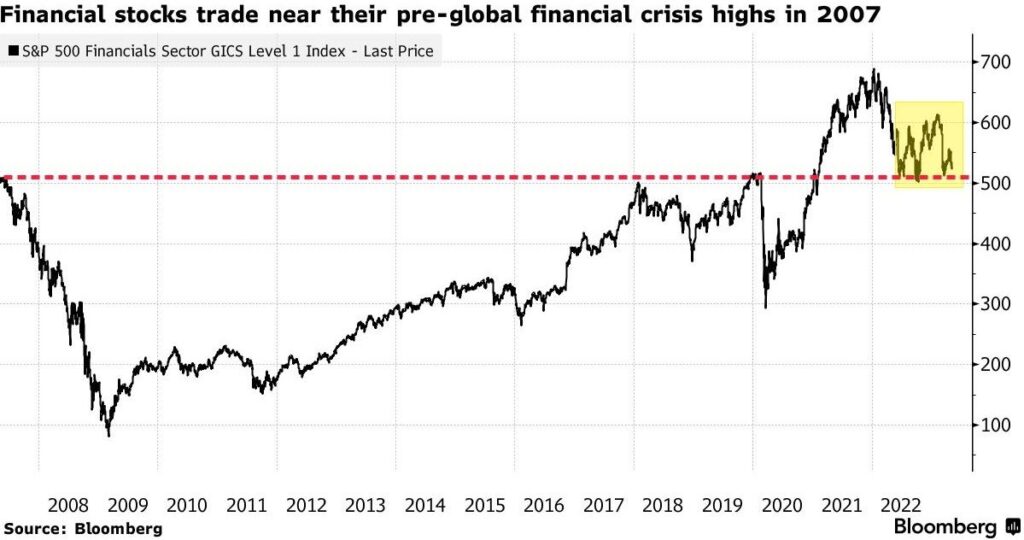 Hedge-fund manager Jim Roppel, founder of Roppel Capital Management, told Bloomberg that a falling financials index could spell trouble for the overall stock market, saying that "you can't have a bull market if bank stocks are falling." He added that the situation was like "if an Olympic athlete had cinder blocks around his legs."
The recent turmoil among regional banks has contributed to a wild week in the stock market, with investors aggressively shorting bank stocks. While the share prices rebounded on Friday amid speculation the selling was overdone, many remained steeply down, with some banks losing up to 43% of their value in a single week.
Individual investors have tried to take advantage of the situation by buying shares of Bank of America Corp., Truist Financial Corp., and SoFi Technologies Inc., but there is ongoing concern on Wall Street that the turmoil could lead to a tightening in lending, which could further weaken the economy.
The situation has led some traders to bet that the Federal Reserve may start easing monetary policy as soon as July to stimulate the economy. And today's better than expected CPI reading of 4.9% is certainly a positive sign for that to start happening at some point later this year. However, experts caution that it is too soon to wade back into shares of beaten-up banks. Instead, investors should focus on technology and consumer-related stocks that would benefit from a drop in interest rates.
What about Israeli financial institutions?
While it's possible that Israeli banks won't feel the effects of the US crisis directly, one Israeli bank, Bank Leumi, has already experienced a direct impact through its investment in Valley National Bank and will have to make provisions in its financial report because of it. Nonetheless, any selloff on Wall Street is likely to have a limited impact due to the fact that local banks primarily operate within the country. In the meantime, Israeli banks will do well if they keep a close eye on the situation, mitigate any potential risks, and take necessary measures to protect themselves from the fallout of a further downturn in the US financial system.
Regarding individual investors, they should consider diversifying their portfolios to reduce the risk of any potential losses in the event of a broader market downturn. One way of achieving it is to have a diversified portfolio that includes a variety of stocks across different sectors, including defensive sectors such as consumer staples, healthcare, and utilities. These sectors tend to be less sensitive to economic cycles and may hold up better during a banking crisis. Additionally, investors may want to consider adding some safe-haven assets to their portfolio, such as gold or government bonds, especially when a decent interest rate is paid, making them an attractive option for risk-averse investors. These assets tend to perform well during economic uncertainty and may help offset losses in other parts of the portfolio.
*Disclaimer: Data, information, opinions, and forecasts in this article are the opinions of the writer and should not be taken as financial advice. The information is provided as a service to the reader.