The Dow Jones Transportation Average, which tracks 20 large U.S. companies ranging from airlines to railroads to truckers, has underperformed the Dow Jones Industrial Average by about 8.3% since early February. This means that while the Dow Jones Industrial Average has remained relatively stable, the Transportation Average has been trending downwards.
According to a theory formulated more than a century ago by one of the founders of the indexes, Charles Dow, when the two indexes climb together, this means that the increases are expected to continue. This is because this indicates that the products of the various companies are not only manufactured but also transported to stores by companies in the transportation sector, and do not remain in warehouses.
However, a drop in the transportation stock index while the Dow Jones Industrial Average continues to climb is ominous, as rail, trucking, and shipping companies are often among the first to spot changes in market trends. The fact that transportation stocks are underperforming while the Dow Jones Industrial Average is holding up may signal weakness in the economy.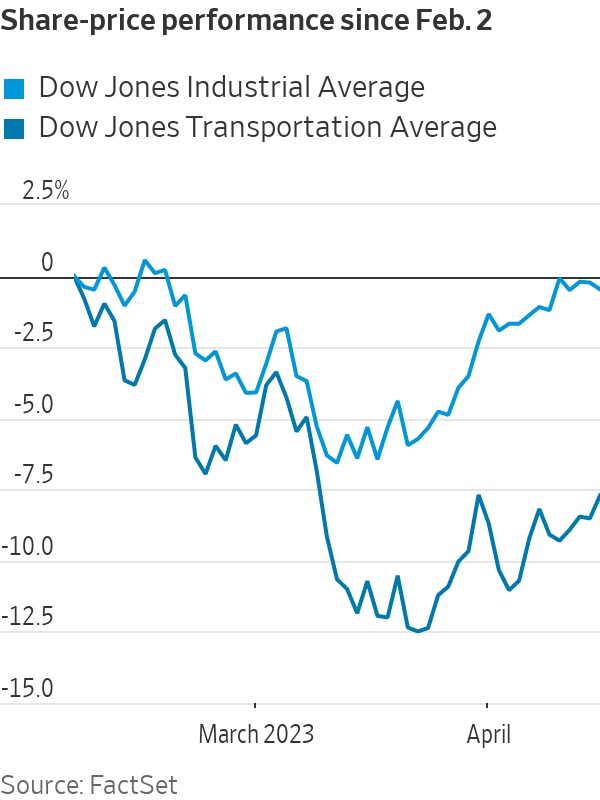 Historically, transportation and small-cap stocks have led market recoveries, but they have also declined more rapidly during economic recessions when demand for goods and materials declines. Therefore, it is possible to view the underperformance of the Dow Jones Transportation Average as an indicator of an impending economic downturn.
Unsurprisingly, fears of a recession have increased recently. According to economists surveyed by The Wall Street Journal, there is a 61% chance one will occur within the next 12 months, though it is expected to be just a brief contraction of the economy.
While there are some company-specific news items to blame for the recent slide in the stocks, such as Norfolk Southern being sued by federal prosecutors and environmental regulators after one of its trains derailed in February, spilling hazardous chemicals in Ohio. Furthermore, the airlines United and Delta Airlines reported last week a loss in the first quarter of 2023, and Delta CEO Ed Bastian even warned in an interview following the publishing of the reports that the nature of the changes taking place in consumer behavior patterns make it difficult for the airlines to provide forecasts for the future. Finally, rising price of oil has certainly impacted the margins of transportation companies and remain a concern for consumers.
Nevertheless, some investors and analysts dispute the notion that a recession is imminent, as the labour market and consumer spending have remained resilient to date. In addition, the yield on 10-year Treasury notes has declined, which may encourage investors to reinvest in large technology companies. Even if the economy enters a recession, some analysts believe that investors have had sufficient time to conduct stress tests.