The world remains entrenched in a battle with high inflation. The cost of living is continuing to rise as the war in Ukraine and ongoing pandemic restrictions remain major factors hurting supply chains. At the same time, central banks have been raising interest rates for several months now to bring inflation under control, and recent signs indicating some success. However, there is a key catalyst that suggests otherwise. The global bonds index, and particularly its yield curve, has inverted for the first time in twenty years, predicting a recession in the coming months.
What is yield curve?
The yield curve is a graph that gives a snapshot of the sovereign debt market. The horizontal axis represents the maturity date, and the vertical axis represents the interest rate or the yield to maturity. The yield curve shows the spread between the yield on a 10-year bond and the average yield on a one-to-three year bond. The graph essentially depicts the yields on sovereign debt globally at a given point in time for respective payback dates. It is tracked by the Bloomberg Global Aggregate bond indexes, and this is what investors look for when gauging the strength of the world economy.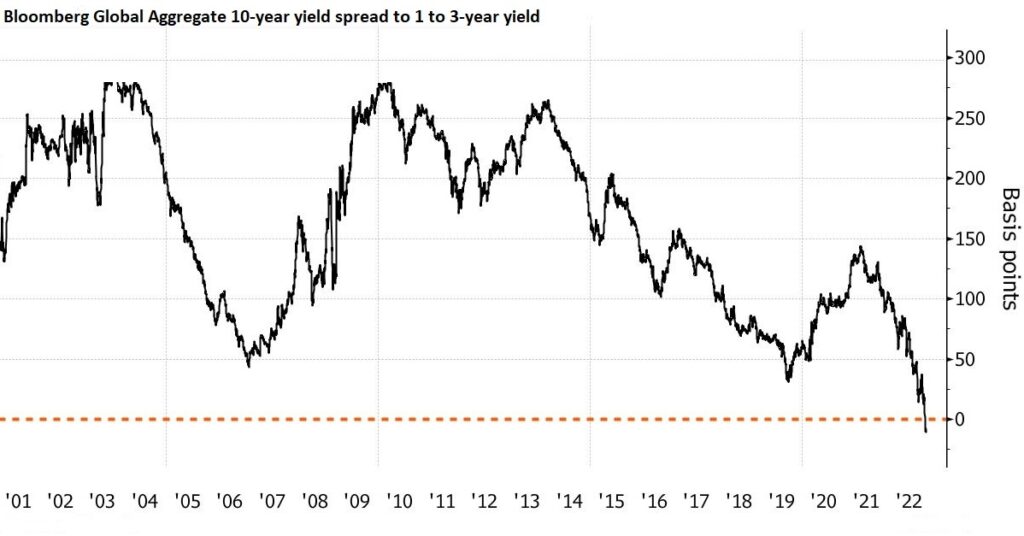 The rule of the thumb is that the long-term bond yields should be higher than those of the short-term bonds since the risk of giving a loan for a longer period of time is higher. The inversion happens when investors shift their money to longer term bonds due to pessimism about the economy in the near future, bringing the yield down. In many circumstances, such a reversal precedes periods of recession and is thus regarded as a warning sign.
According to Deutsche Bank AG, Germany may already be in recession, while the US is expected to enter one by the middle of next year.
On Monday, European Central Bank President Christine Lagarde suggested that more rate hikes are expected, saying she would be surprised if euro-zone inflation had peaked, while Federal Reserve Chair Jerome Powell on Wednesday made comments indicating that rates may need to rise higher in order to lower inflation.
Consequently, the concerns of recession are mounting as policymakers around the world continue committing additional monetary tightening in order to contain rising consumer prices.