While Israel is making steady progress toward the adoption of electric vehicles (EVs), a more pressing challenge is emerging. The availability of infrastructure for recharging cars and the speed at which it is achieved. On the one hand, doing so in the comfort of one's own home overnight is not a problem because recharging equipment is widely acquired from local vendors. However, the same cannot be said about charging points across the country.
This issue appears to be resolved in the very near future. Zooz Power (TASE: ZOOZ), an Israeli developer of an ultra-fast power booster for EVs, installed its first two charging system units last week in Zichron Yaacov. The introductory rollout was conducted in collaboration with Afcon Electric Transportation and with the backing of the Energy Ministry and the Israel Innovation Authority.
The company's groundbreaking charging mechanism is based on kinetic flywheel technology. What it does is use grid energy to spin eight steel wheels per unit 17,000 times per minute. Each wheel weighs roughly 500 kg. The process essentially converts electrical energy to kinetic energy. When a vehicle needs to recharge, the spinning is reduced so that the kinetic energy may be converted back into electrical energy and flushed into the battery with enough force to complete its recharge in about 15 minutes.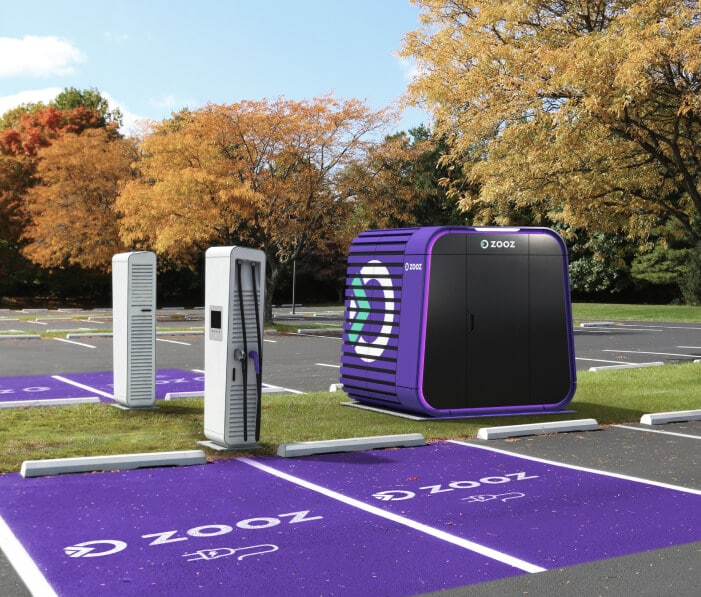 Batteries have traditionally been associated with lithium and the negative environmental implications connected to its extraction. Water loss, toxic waste, ground instability, and increased salinity of rivers are all common environmental side effects of lithium mining. This new technique, on the other hand, completely avoids it. Furthermore, the kinetic system is designed to produce the same amount of electricity without weakening, as is typical with lithium batteries.
So, it's not surprising that Zooz Power's goal is to provide fast EV charging in places where there isn't enough energy infrastructure.
Zooz's CEO Boaz Weizer said, "Despite an upward trend, Israel lags behind European countries, and we estimate that in order to catch up, the number of ultra-fast charging stations needs to grow within a few years to about 10 times its current number today. The joint venture is expected to show that it is possible to significantly accelerate the transition to electric vehicles driving on Israeli roads without restriction, as drivers get access to a wide deployment of ultra-fast, reliable, and stable public charging infrastructure that is green and environmentally friendly, and makes it possible to charge the vehicle's battery in just a few minutes."
According to Zooz, there are around 40,000 EVs in Israel, with only about 100 fast and 150-kilowatt ultra-fast charging points available to be used. It is believed that by 2025, there will be over 200,000 EVs on Israeli roads, as the government is aiming to phase out sales of non-electric cars by 2030. Therefore, it will require around 1000 charging points to be rolled out in two years in order to meet the demand.
Ironically, Zooz's first steps in introducing its service were undertaken abroad. The company's 100 gadgets are already in operation at five different sites in Austria, Germany, and New York.
To further advance its presence on US soil, last month Zooz Power signed a five-year distribution agreement with Nasdaq-listed Blink Charging.